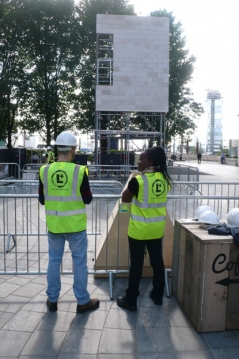 Wolgang Weileder
Transfer Laban, 2016

A specially commissioned art installation entitled Transfer Laban, has been created by German artist Wolfgang Weileder for Canary Wharf, in conjunction with Locus+. The installation will appear between 13th – 24th June and will see a full-scale replica of the façade of Trinity Laban Conservatoire of Music and Dance constructed and deconstructed.
Over the two-week period, each elevation will be built and unbuilt in a choreographed sequence across Montgomery Square that sees it physically and metaphorically transfer. Animating the space in this temporary way, Weileder's aim is to invite a new and fresh engagement with different aspects of the existing built environment of Canary Wharf. As a major business district and cultural forum it was an ideal site to host the installation.

The students from Trinity Laban have inspired a second component of the installation. They have developed a series of performances in response to the artwork and will perform these twice each day alongside the installation.
Collaborating with Trinity Laban was instrumental to the artwork. The bold and decorative building designed by Swiss architects Hezog de Meuron, won the RIBA Stirling Prize back in 2003. It was important for Weileder to choose a building not only for its extraordinary architecture but for its nurturing of cultural activity. As one of the world's leading conservatoires for contemporary dance artist training, it has a pioneering education and community programme.