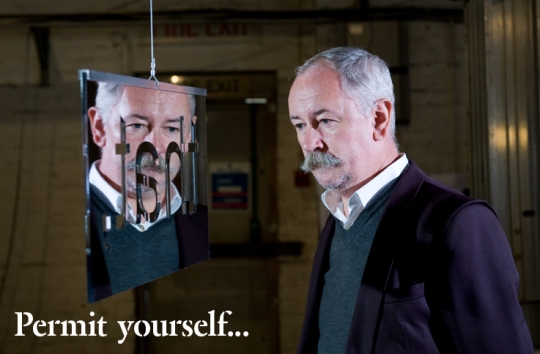 "Permit yourself to drift from what you are reading at this very moment into another situation, another way of acting within the historical and psychic geographies in which the event of your own reading is here and now taking place; here, and now taking the place of other ways of making passionate and energetic connections between us. Imagine a situation that, in all likelihood, you've never been in."

Permit yourself… is a large-scale kinetic sculpture formed from double-sided mirrors, with text intricately cut out of each panel and assembled as a huge mobile.
Hanging within a large warehouse in the heart of one of Sunderland's industrial quarters, by the River Wear, Permit yourself… is continually moving. With each panel revolving slowly, no visitor will experience the same sequence of changing light and text.
Open 16th September – 23rd October 2011, 12-6pm (Closed on Mondays)
This major piece of temporary public art explores the True Spirit of the 2012 Olympic and Paralympic Games and the Cultural Olympiad.
Commissioned by Locus+ and Great North Run Culture
View the project: Cerith Wyn Evans, Permit yourself..., 2011
Related Information