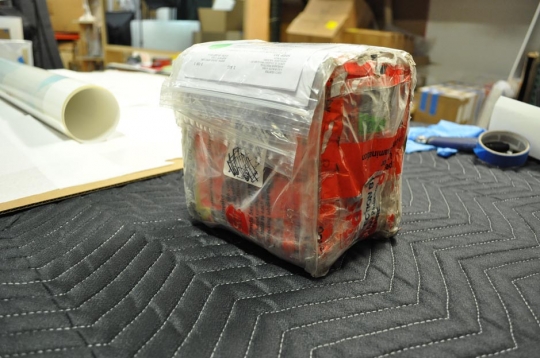 Please join us this Saturday to celebrate Second Moon's final landing!
1pm, Saturday 20th September 2014
Great North Museum: Hancock,
Barras Bridge, Newcastle upon Tyne, NE2 4PT
Second Moon is scheduled to arrive back at the Great North Museum: Hancock this Saturday after completing its year-long voyage around the planet.
To welcome Second Moon back to the North East, we are pleased to announce that Dr Andrew Fletcher, Senior Lecturer from the School of Mathematics and Statistics at the University of Newcastle will present a short talk.
Following its launch from the museum a year ago, Second Moon has spent the last 12 months being shipped around the planet via UPS courier. Over this time it has completed 13 orbits.
On behalf of Locus+ and Katie Paterson, we'd like to thank the numerous partners around the world who have helped make this extraordinary project happen: James Cohan Gallery, Shanghai; Adelaide Festival, Australia; Yerba Beuna Center for the Arts, San Francisco; Elmsly, London and Ingleby Gallery, Edinburgh. It's certainly not been without drama - on a couple of occasions it looked like Second Moon had been lost, it was X-rayed extensively and frequently needed to be released from quarantine, but despite gaining several layers of stickers and labels, looks to be heading back to Newcastle in one piece!
Second Moon, has been commissioned by Locus+ in partnership with Newcastle University and Tyne & Wear Archives & Museums. It has been supported by Arts Council England, Adelaide Festival, Newcastle City Council, Catherine Cookson Foundation, Mead Gallery and the Yorkshire Sculpture Park.
Second Moon has been produced by Locus+ with production support from Elmsly. App design by Fraser Muggeridge Studio and Supermono.