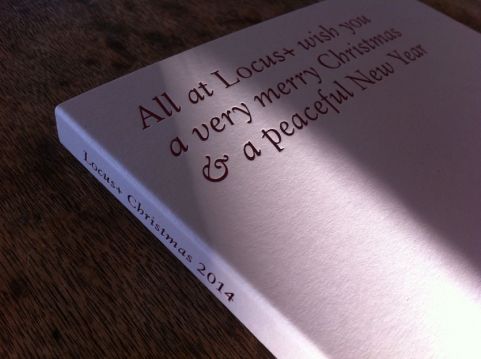 All at Locus+ wish you a very merry Christmas & a peaceful New Year.

Jonathan Monk
A Small Glass Christmas Tree Ornament Placed Inside a Padded Envelope & Stamped on by Jonathan Monk, 2014 Artist Edition of 500

We are delighted to have worked with Jonathan Monk for this year's artist's Christmas card commission. The artist, currently based between Berlin and Rome, often appropriates and re-examines works and strategies of Conceptual and Minimal art by variously witty, ingenious and irreverent means.

In the New Year, we will be working with the artist and MORE Publishers to realise a year-long mail-art project that recontextualizes Richard Hamilton's famous Whitley Bay photographic postcard from 1965/66.

Thank you for your support...
We would like to thank everyone who has supported us this year and helped us realise our programme of work.
During 2014 we have had the privilege and pleasure to have worked with Katie Paterson, Ron & Francis Geesin, Christian Barnes, Jonathan Monk, Dr Mark Haywood, Maggie Aderin-Pocock MBE, Peter Holden MBE, Newcastle University, Tyne & Wear Archives & Museums, Adelaide Festival, Yerba Buena Center for the Arts, James Cohan Gallery, Baltic, Elmsly, Supermono, Mead Gallery, Yorkshire Sculpture Park, Ingleby Gallery, De La Warr Pavilion, Fraser Muggeridge Studio, David Chavannes and Two.
We look forward to seeing you all in 2015.