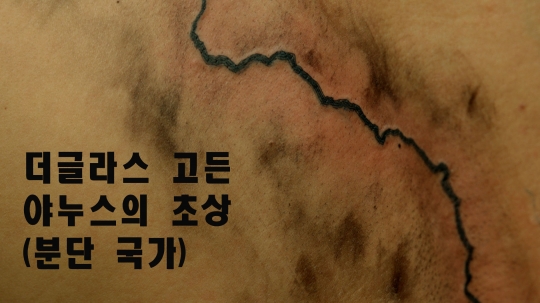 We are extremely proud to be able to announce the following screenings of our new commission, Portrait of Janus (divided states), a new film and performance by Douglas Gordon.
Art Sonje Center, Seoul, South Korea. 28th November – 10th December 2017
87 Yulgok-ro 3-gil, Jongno-gu, Seoul, 03062 Korea
Korean Culture Centre UK, London, UK. 5th – 24th February 2018
Grand Buildings, 1-3 Strand, London WC2N 5BW
Portrait of Janus (divided states) will be shown for the first time this year at the Art Sonje Center in Seoul in November as part of the Korea / UK Cultural Season.
The film will be shown everyday (closed on Mondays) at 2, 4, 6 pm at B1 Art Hall. The 6pm-screening on 6th December will be followed by a lecture titled From 'Remaking Cinema' to 'Video Portraits': Douglas Gordon's Art of the Moving Image by Professor Jihoon Kim from Chung-ang University.
Portrait of Janus (divided states) will also be shown at the Korean Cultural Centre UK in London in early 2018 where it will be accompanied by a live performance by the celebrated South Korean cellist Okkyung Lee.
The Scottish artist Douglas Gordon's new work uses the demarcation line of Korea's Demilitarised Zone (DMZ), the strip of land separating North and South Korea, to trace a literal and metaphorical boundary.
The work, Portrait of Janus (divided states) 2017, tracks the DMZ border being tattooed vertically along the spine of a young Korean man, Janus Hoon Jang.
The film follows the tattooist's needle moving down and across his skin and the motifs of the political and personal jar in a private act that is both tender and violent. The delicately balanced contradictions of the emerging image and it's meanings are haunted in real time by Okkyung Lee's improvised accompaniment; a keening, in fact.
Janus Hoon Jang, adopted by a Danish couple, often returns to Korea to research his family history. He currently lives in Copenhagen, Denmark.
Douglas Gordon (born 20 September 1966) is a Scottish artist. He won the Turner Prize in 1996, the Premio 2000 at the 47th Venice Biennale in 1997 and the Hugo Boss Prize in 1998, among others. In 2012, Gordon became a Commandeur dans l'ordre des Arts et des Lettres, awarded the title by the French Cultural Minister in Berlin on behalf of the French Republic. He lives and works in Berlin, Germany.
Okkyung Lee (born 1975) is a South Korean cellist, improvisor and composer. She has collaborated with a range of musicians and artists including Laurie Anderson, Christian Marclay, Thurston Moore and John Zorn. She is based in New York, USA.
Commissioned and produced by Locus+, Newcastle upon Tyne / lost but found film limited, Edinburgh in partnership with the Korean Cultural Centre UK, London.