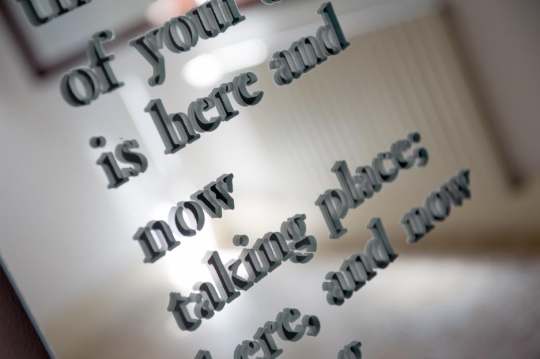 "Permit yourself to drift from what you are reading at this very moment into another situation, another way of acting within the historical and psychic geographies in which the event of your own reading is here and now taking place; here, and now taking the place of other ways of making passionate and energetic connections between us. Imagine a situation that, in all likelihood, you've never been in."
Permit yourself… (2011), is a custom made 180cm x 48cm mirror panel, with text from an essay by Stephan Pfohl, We Go Round and Round in the Night and Are Consumed by Fire, a review of Guy Debord's film, In Girum Imus Nocte Et Consumimurm Igni, cut into its surface.
The work is being exhibited as part of Interloqui, an exhibition at the Caterina Tognon Arte Contemporanea, in Venice during the 54th Venice Biennale.

An artist multiple, in a limited edition of three, Permit yourself… (2011) has been commissioned by Locus+ and produced by the National Glass Centre in Sunderland. This is the first of a new collaboration between the two organisations, which will see a series of artist multiples produced through the Locus+ programme.
Interloqui at Caterina Tognon Arte Contemporanea runs from 2nd June until 26th November.
Caterina Tognon Arte Contemporanea, Palazzo da Ponte, Calle del Dose (Campo San Maurizio), San Marco 2746, Venezia.
Related Information