The Locus+ Archive (incorporating material from the Basement Group and Projects UK) hosted at the University of Sunderland currently has two PhD posts affiliated to it and is the largest archive of time-based work in Europe. It forms a comprehensive historical overview of contemporary art practice from the early '70s to the present, covering artists' projects from a variety of British and international contexts. Here is a snapshot of the projects that have been digitized to date.
Paul Wong Window '97, 1997
Shown from 29 to 31 May 1997 to coincide with the hand-over of Hong Kong from the UK to China, Windows '97 was an installation consisting of large backlit colour photographs of Quenn Elizabeth II and Chairman Mao bordered by flashing neon symbols; the Union Jack, red star, AK47, Money signs, a crown and the new Hong Kong logo.
Read more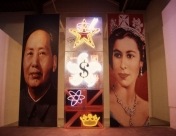 Paul Wong Feng Shui, 1993
A performance installation in which artists installed objects and carried out rituals associated with the ancient Chinese practice of Feng Shui.
Read more