The Locus+ Archive (incorporating material from the Basement Group and Projects UK) hosted at the University of Sunderland currently has two PhD posts affiliated to it and is the largest archive of time-based work in Europe. It forms a comprehensive historical overview of contemporary art practice from the early '70s to the present, covering artists' projects from a variety of British and international contexts. Here is a snapshot of the projects that have been digitized to date.
Ian Breakwell Hidden Cities, 1995
Artist's performance in the form of a lecture presenting an alternative history of Durham. Firstly on board the Prince Bishop river cruiser, then from the main pulpit in Durham Cathedral, where the artist gave a reading from 'In The Cathedral', the penultimate chapter of Kafka's novel The Trial.
Read more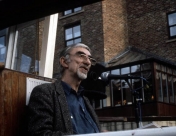 Ian Breakwell Christmas Carol, 1991
A performance in which four synchronised figures dressed in Santa Claus costumes performed in Newcastle's Northumberland Street.
Read more