The Locus+ Archive (incorporating material from the Basement Group and Projects UK) hosted at the University of Sunderland currently has two PhD posts affiliated to it and is the largest archive of time-based work in Europe. It forms a comprehensive historical overview of contemporary art practice from the early '70s to the present, covering artists' projects from a variety of British and international contexts. Here is a snapshot of the projects that have been digitized to date.
Anya Gallaccio Repens, 2000
Repens was a temporary land-work using a decorative motif designed by Robert Adam for the ceiling of the Great Hall at Compton Verney
Read more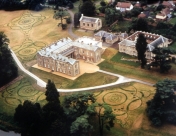 Anya Gallaccio Two Sisters, 1998
Two Sisters was a 6-metre high, 2.5-metre diameter and 70-ton column of chalk bonded by plaster installed on the silt bed of the Minerva Basin, Hull. The work was continually modified by the tidal flow of the River Humber until it finally eroded and collapsed.
Read more