The Locus+ Archive (incorporating material from the Basement Group and Projects UK) hosted at the University of Sunderland currently has two PhD posts affiliated to it and is the largest archive of time-based work in Europe. It forms a comprehensive historical overview of contemporary art practice from the early '70s to the present, covering artists' projects from a variety of British and international contexts. Here is a snapshot of the projects that have been digitized to date.
2008 Sonia Boyce, For You Only You
A triptych video installation of a collaborative project that addresses the boundary between classical music and sound art. For you, only you comprises the fusion of a musical masterpiece of the early 16th century - Tu solus qui facis mirabilia (You alone can do wonders) by Josquin Desprez – sung by Alamire and contemporary sound art by Mikhail Karikis.
Read more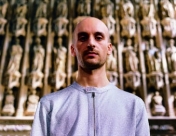 2008 Tatzu Nishi, Hotel Monument
Hotel Monument proposed to place a fully functioning hotel room and reception at the top of Grey's Monument, Newcastle upon Tyne, around the statue of Earl Grey, 40m above the ground.
Read more